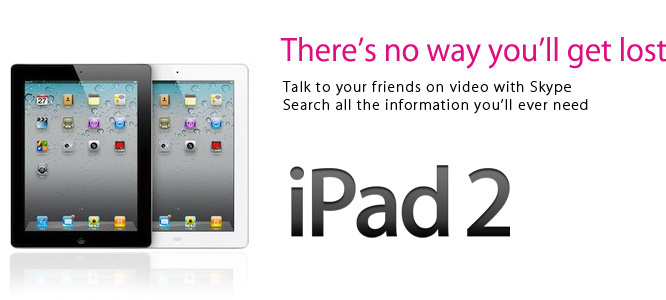 How would you like the convenience of having an iPad while you travel?
Find out if the store you wanted to check out is open,
Look up directions to your restaurant reservation and how traffic is looking,
Look up where the nearest convenience store is,
Read the news,
Check your e-mail on the go.
Use the internet for free Wi-Fi locations such as those at Starbucks and McDonalds. Most hotels have free Wi-Fi as well. The iPad switches to the fastest Wi-Fi mode automatically.
If you have your own iPad… rent one of our Mobile Wi-Fi units and connect to the internet as easily as if you were back on the States. Connect to the internet anywhere like inside a commuter train or bullet train and at the train station. Using GPS, you can locate exactly where you are and get directions to your destination including which trains to get on and when.
Note: The Wi-Fi in iPad can only function in areas with a Wi-Fi antenna nearby, such as in the hotel lobby or Starbucks. The Mobile Wi-Fi unit acts as its own Wi-Fi antenna anywhere there is cell reception allowing your iPad to connect to the internet virtually anywhere.


iPad
$9.90/day (White, 16GB, with Wi-Fi)
Wi-Fi Router
$9.90/day for first 10 days
$4.45/day after 11 days Rental rates begin the day after your departure from the US and end the day before you return to the US.
Combine the two devices and save $2/day!
Please use caution when traveling with iPad. Rental insurance does not cover iPad rentals.