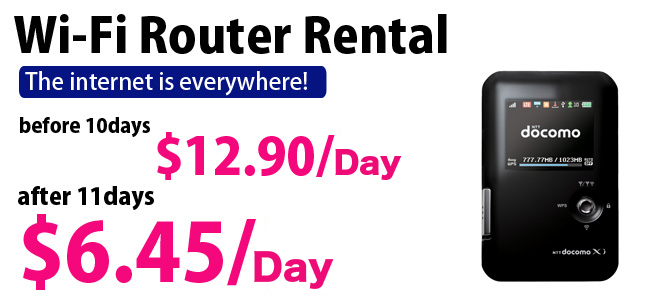 Rent an essential item for your travel throughout Japan: Mobile Wi-Fi!

Advantages
Connect to the internet in locations without internet access, such as at resorts, hotels that charge fees to use their internet access, inside taxis, at restaurants, and in your customer's office.
Use the GPS function in your US iPhone or iPad to navigate.
Rent the Mobile Wi-Fi unit for a flat daily rate and use the internet as much as you want.
If you have Skype installed on your device, you can make international calls for free.
Download speed is 40 Mbps, and upload speed is 10 Mbps (please ask about data speeds as these vary between device types) roughly on par with basic cable modems and DSL speeds. As a gauge for how fast this is, you can watch hi-res YouTube videos with occasional pauses to catch up on the feed.




Use your laptop at a café



You can see the Mobile Wi-Fi unit right next to the laptop in this photo, but you can leave the Mobile Wi-Fi unit much farther away for the same results. Connect 5 or 6 devices simultaneously to one Mobile Wi-Fi-device. Bring along your familiar laptop and e-mail as usual.



Connect your USB-less iPad wirelessly to the internet



Connect to the internet using your own US iPad by using the Mobile Wi-Fi. Use your iPad as a navigation tool. Also, because most JR trains and stations charge membership fees to use their internet connections, renting a Mobile Wi-Fi device is more economical for those who stay in Japan only 1 to 2 weeks.
Use your iPhone from the US



Rent our Mobile Wi-Fi units and use your US iPad and iPhone throughout Japan. If you use your US iPhone internationally, make sure to turn off roaming to avoid getting charged high rates from your US carrier.
Rental Rates
Per-Day Rates
$12.90/day up to 10 days. $6.45/day from day 11 onward Note: rates begin one day after your departure and end one day before you arrive back in the US
Insurance Rates
$1/day covers all losses over $120 Without insurance, maximum replacement cost is $1,000

Explanation of Services
Method of Billing
Base rental rates are charged when the rental reservation is made. Rates begin one day after your departure and end one day before you arrive back in the US.

Rental Rates

$12.90/day for the first 10 days.
$6.45/day after 10 days for rental.
Example: You arrive in Japan on January 1st (with your rental period
starting upon arrival), and you return your rental on January 15th.
Your fees for this rental will consist of $12.90/day for the 10-day
period from 1/1 to 1/10 (subtotal of $129.00) plus $6.45/day from 1/11
to 1/14 (subtotal of $25.80) for a grand total of $154.80.

Set up

None. Just enter the provided password upon connecting to the web.

Customer Support
If you have any questions, please call our Tokyo Support Desk.  Hours of operation are from 6AM to 6PM for 7 days a week.
Special Notes
If your connection is bad, please contact our Tokyo office immediately. We cannot reconcile complaints after your rental period is over. We recommend mentioning the area in which you will be using these devices to better predict the robustness of the signals. 
Itemized Receipts
Free via e-mail. Please request this service. Mailing hardcopies costs $2.

Dimensions

Depends on model, but generally slightly larger than a mobile phone.

Weight
Approximately 80-120 g
Speed
Download Speed 7.2-42 Mbps (depending on model)
Upload Speed 5.8-10 Mbps (depending on model)
Applicable OS
Mac OS X 10.4 and above
Windows XP Professional/Home Edition(ServicePack2 and above)
Windows Vista (32-bit and 64-bit)
Windows 7 (32-bit and 64-bit)

Method of Picking up and Returning Devices
Via shipping

Within California $8.00 USPS 7day advance
$18.00 for 2 business-day delivery
$45.00 for overnight delivery
Outside California $25.00 for 2 business-day delivery $65.00 for overnight delivery

At our store counter
Free Our counter is located inside the
Bonaventure Hotel, 5th Floor
At your local participating travel agency
Free
Note: The following charges will be applied to last-minute pickups
1) $5.00 for pickup within 5 days of reservation
2) $10.00 for pickup within 3 days of reservation
3) $25.00 for pickup within 1 day or reservation
Via taxi driver for partner companies
Free for those using our partner Elephant Tour for transportation
At the airport
$35.00 to have phone delivered to airline check-in counter at LAX